Crafts with Ping Pong Ball: Creative and Fun Ideas for DIY Enthusiasts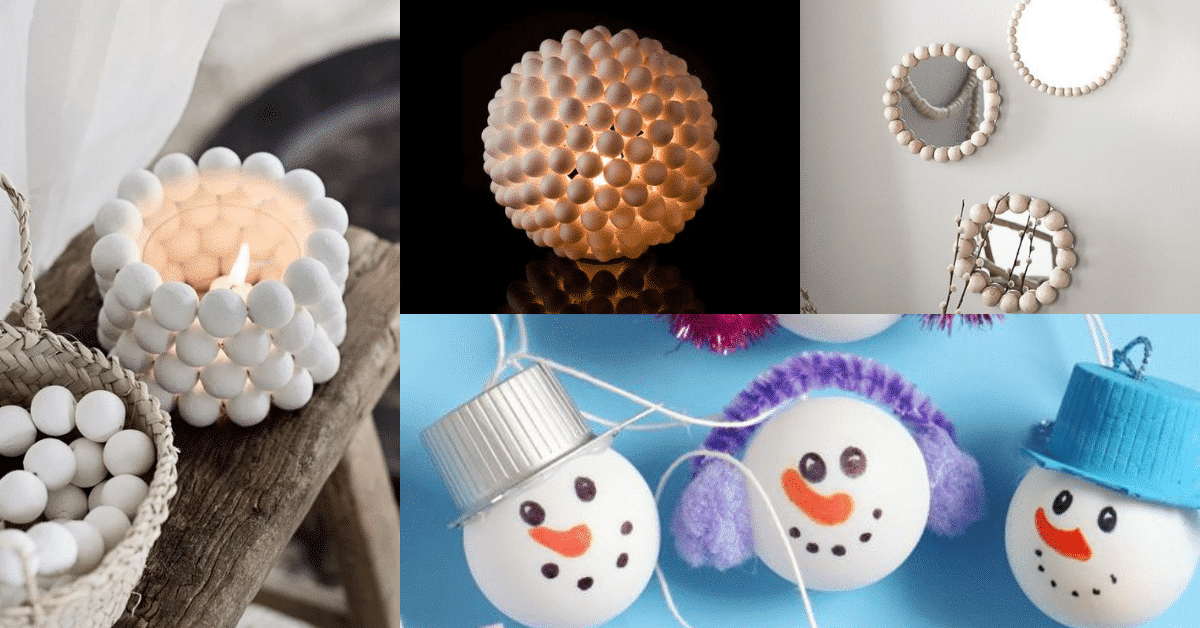 Ping pong balls are not just for table tennis. These small and lightweight balls can be used for various crafts and DIY projects.
From home decor to party decorations, there are endless possibilities when it comes to incorporating ping pong balls into your creative endeavors.
In this article, we will explore some exciting and unique crafts that you can try with ping pong balls. So grab your glue gun and let your imagination soar!
1. Introduction
Ping pong balls are inexpensive and readily available, making them a perfect material for DIY projects. Whether you are a seasoned crafter or a beginner looking for a creative outlet, working with ping pong balls can be both enjoyable and rewarding. In the following sections, we will explore some fantastic craft ideas that will inspire you to unleash your artistic side.
2. Ping Pong Ball Wreath: Adding a Playful Touch to Your Decor
Ping pong ball wreaths are a delightful way to spruce up your home decor. You can create a colorful and whimsical wreath by attaching ping pong balls to a foam or wire wreath base. Paint the ping pong balls in vibrant hues or leave them in their natural color for an elegant look. Hang the wreath on your front door or display it indoors for a playful touch.
3. Ping Pong Ball Lights: Illuminate Your Space with Style
Enhance the ambiance of any room by crafting ping pong ball lights. To make these eye-catching decorations, you will need a string of fairy lights and ping pong balls. Carefully make small holes in the ping pong balls and insert the lights. When you turn on the fairy lights, the ping pong balls will create a soft and mesmerizing glow, giving your space a magical feel.
4. Ping Pong Ball Vase: A Delicate Centerpiece for Any Occasion
Create a stunning centerpiece for your dining table or coffee table with a ping pong ball vase. Start with a glass or ceramic vase and glue ping pong balls onto its surface. You can cover the entire vase or create unique patterns and designs. Place fresh flowers or artificial blooms in the vase, and watch as it becomes an elegant focal point for any occasion.
5. Ping Pong Ball Caterpillars: Fun Crafts for Kids
Engage your little ones in a fun and educational activity by making ping pong ball caterpillars. Paint the ping pong balls in bright colors and
glue googly eyes onto each ball. Connect the balls using pipe cleaners or string to form the body of the caterpillar. This simple craft will keep children entertained while also teaching them about colors and patterns.
6. Ping Pong Ball Game: A DIY Entertainment Option
Looking for a unique game to play at parties or family gatherings? Create a ping pong ball game that will entertain both kids and adults. Set up a wooden or cardboard ramp with different point values for each hole. Players can then roll ping pong balls down the ramp, aiming for the highest score. It's a fantastic way to bring laughter and friendly competition to any event.
7. Ping Pong Ball Planters: Adding a Green Twist to Your Home
Transform ordinary planters into eye-catching displays with the help of ping pong balls. Apply adhesive to the surface of the planter and attach ping pong balls, covering the entire area. Leave some space between the balls for drainage. Plant your favorite flowers or succulents in the planter, and watch as the ping pong balls add a playful touch to your green space.
8. Ping Pong Ball Garland: Whimsical Decor for Parties and Events
Add a touch of whimsy to your parties and events with a ping pong ball garland. String ping pong balls together using a thin thread or twine, leaving a small gap between each ball. Hang the garland across walls, windows, or tables to create a festive and joyful atmosphere. You can even paint the ping pong balls in different colors to match your party theme.
9. Ping Pong Ball Snowman: Festive Winter Craft for All Ages
Celebrate the winter season by crafting adorable ping pong ball snowmen. Paint three ping pong balls in white and stack them on top of each other, securing them with glue. Add googly eyes, a carrot-shaped nose, and a small fabric scarf to bring your snowman to life. Display these charming creations on your mantel or use them as table decorations during winter festivities.
10. Ping Pong Ball Popper: A Playful Toy for Outdoor Fun
Keep the kids entertained with a ping pong ball popper. This simple DIY toy allows children to launch ping pong balls into the air with the flick of their wrist. All you need is a plastic cup, a balloon, and a ping pong ball. Cut the bottom of the cup, stretch the balloon over the opening, and secure it with a rubber band. Place a ping pong ball inside the cup, pull back the balloon, and release to watch the ball soar through the air.
11. Ping Pong Ball Necklace: Fashionable Accessories with a Twist
Turn ping pong balls into stylish accessories by creating unique necklaces. Paint the ping pong balls in different colors or add glitter for a touch of sparkle. Thread the balls onto a string or chain, alternating with colorful beads or charms. These one-of-a-kind necklaces will add a playful and creative flair to any outfit.
12. Ping Pong Ball Magnets: Personalized and Practical Crafts
Transform your refrigerator or magnetic board with personalized ping pong ball magnets. Paint the ping pong balls in various colors and patterns, then attach a small magnet to the back of each ball. You can even add initials or small designs using markers or stickers. These magnets not only serve a practical purpose but also add a pop of color to your kitchen or workspace.
13. Ping Pong Ball Art: Unique and Colorful Wall Decor
Unleash your artistic side by creating stunning ping pong ball art. Arrange ping pong balls in a pattern or design on a canvas or wooden board. Glue them in place and paint the entire surface in your desired color. The result is a visually striking piece of art.