Amazing plant table ideas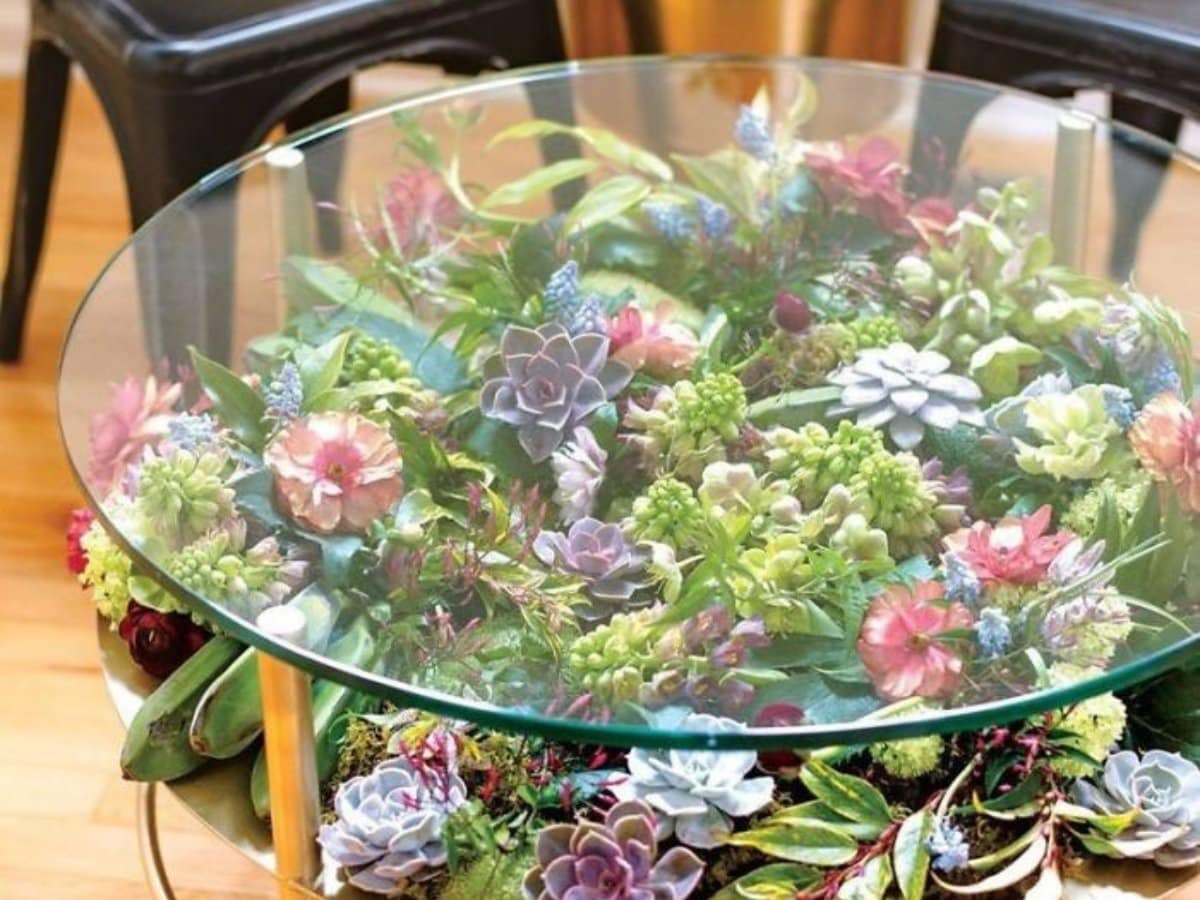 The table is a very used element in home decoration, both outdoors and indoors. The tables have several functions, but in addition they can also be the perfect element to decorate your home.
Our suggestion today are amazing table ideas with plants. The idea is simple, but it can completely transform the environment.
A very creative idea that works perfectly. There are ideas for all types of tables, from side tables to dining tables. Come check out the ideas that we separate for you.
Ideas for tables decorated with plants
Plants are a beautiful part of your home and give that natural and colorful touch, in addition you can make different and original decorative pieces.
The process will depend a lot on the style you like and the style you want. The perfect solution for your home and garden.
Succulents are at the top of many people's preferences when it comes to what to plant. There are a wide variety and surprise by their beauty. They are wonderful plants that don't need much maintenance.
Because they are low maintenance plants they are perfect for this type of work. The table can vary in size and shape.
Check out these fantastic ideas.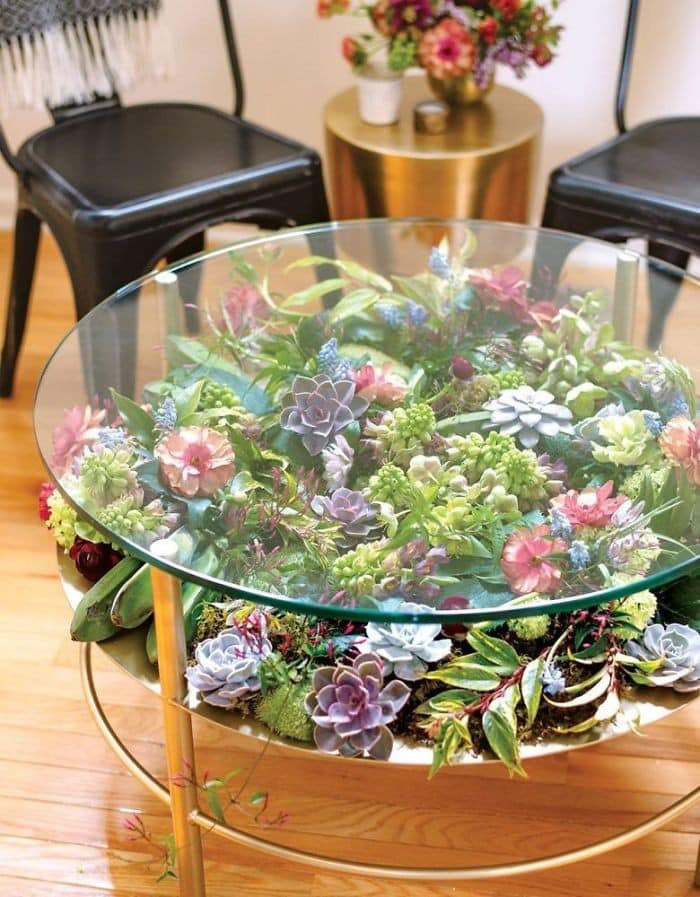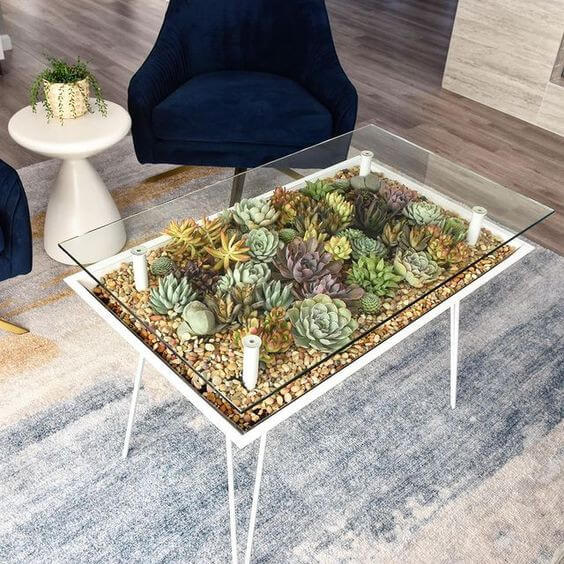 Another fantastic idea that you can make by reusing wooden pallets and creating the ideal table for your style.
Leave a space in the center to make your plantation.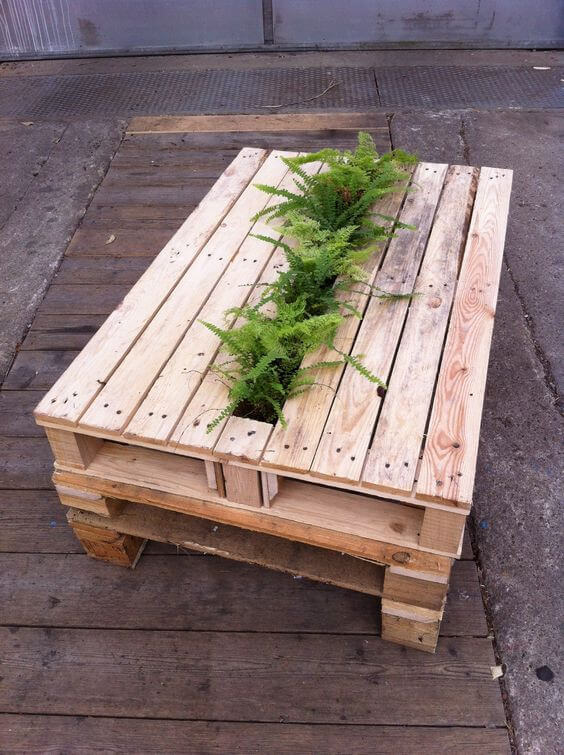 These tables with plants can be used in different areas of your home. It is important to choose the right plants for each space. Indoors, choose low-maintenance, easy-care plants that don't need a lot of water or exposure.
For this reason, succulents and cacti are a good option.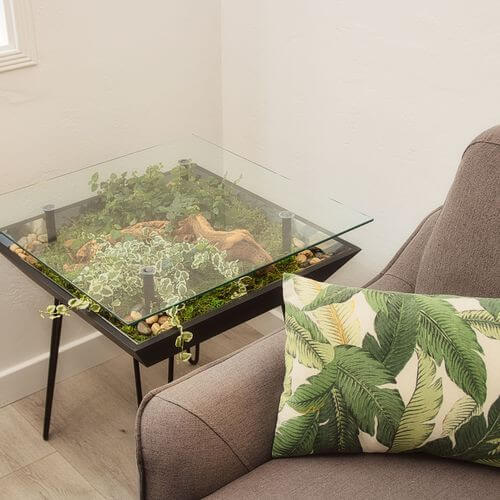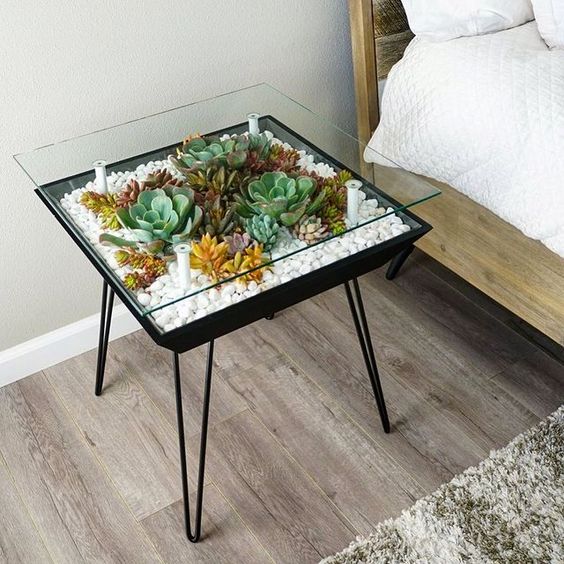 A simpler idea and easier to maintain. You need a table with a bottom where you can place your vases. To enhance your plants you should opt for a glass table top.
This idea is perfect for anyone who likes to appreciate their vases. This is an excellent way to add a special touch to your living room decor.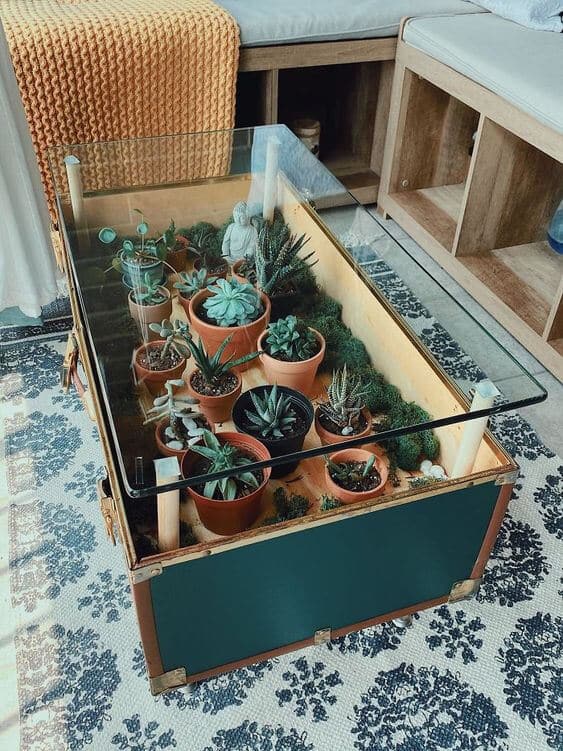 These table styles with plants in the center also match the nature tones of your home's outdoor spaces. These are just a few examples and serve as inspiration to create your own style.
The base of the table can be made of different materials. Plants go well with wood, cement or glass.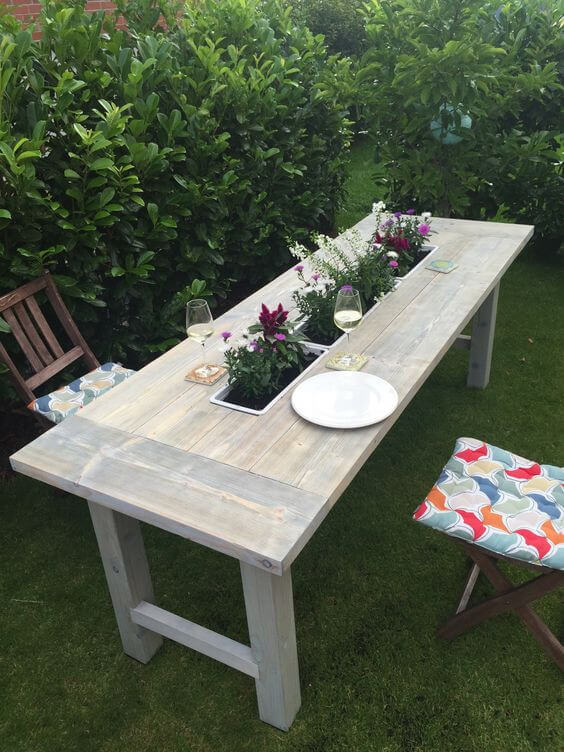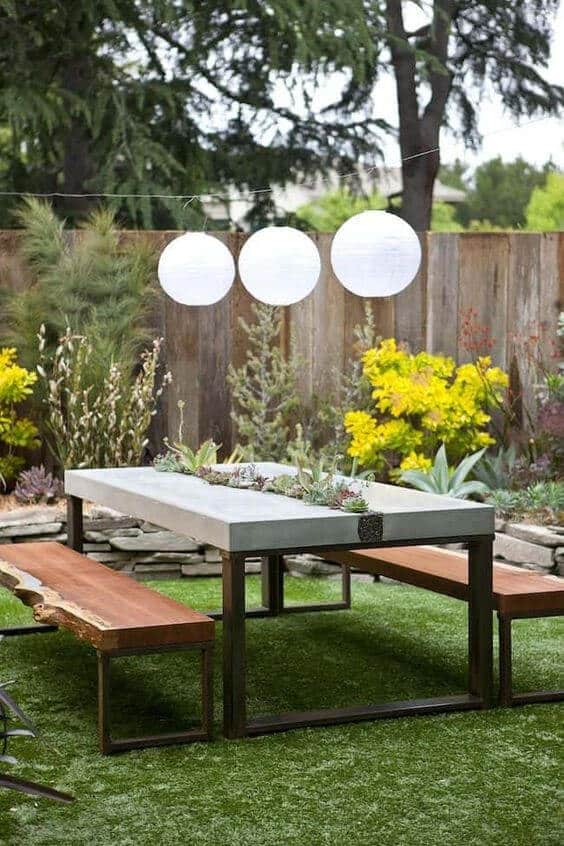 Rustic wood is also a good option, especially for those looking for an alternative to stand out in their home decor. The size of the chosen table will depend a lot on the objective.
Small or large, the final result is wonderful.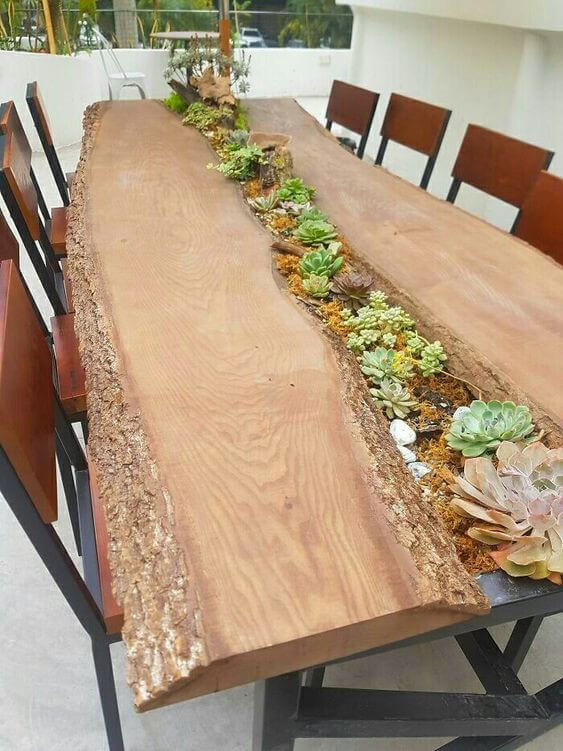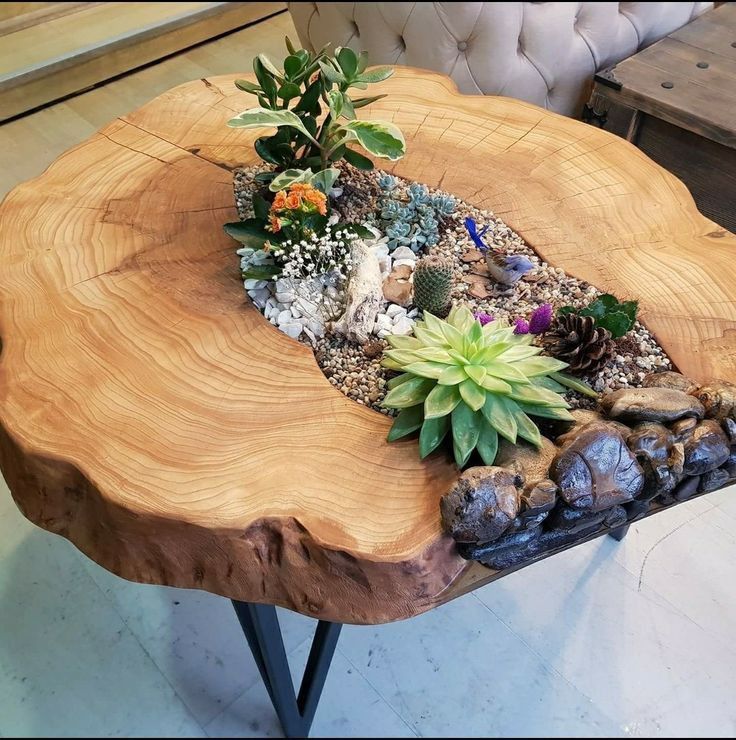 In addition to plants, you can use other items in the decoration such as stones.
If you prefer, you can choose to use artificial flowers, nowadays you can find several models for sale that are very similar to natural flowers.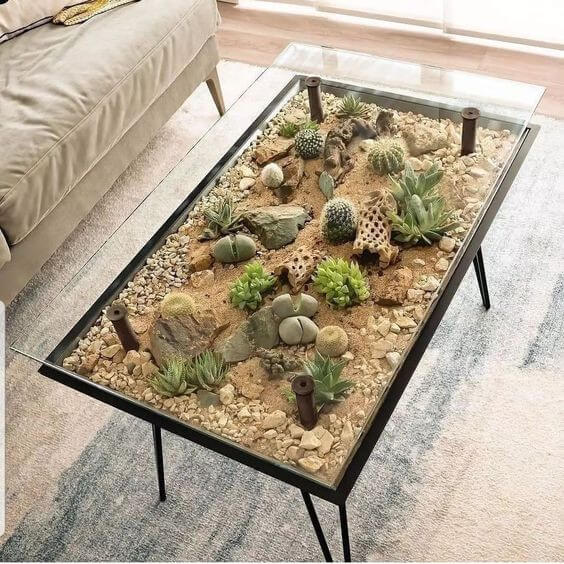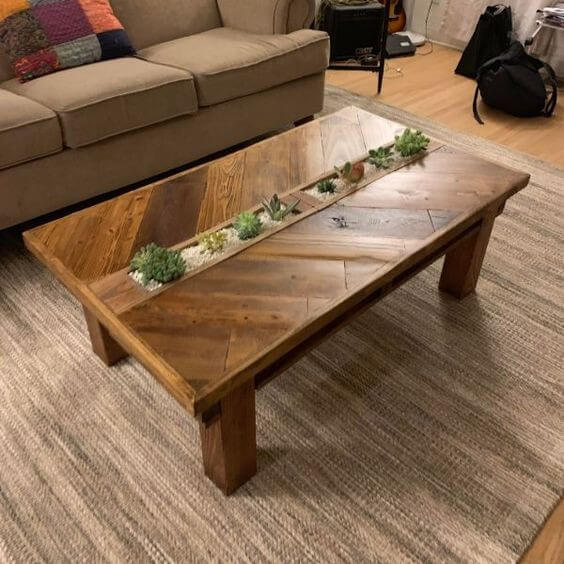 From pinterest.
There are many ideas and models, options for all sizes and spaces in your home.
You can also find ideas made with different materials.
The most important thing is to find the right solution to enhance the space where the table will be placed.