DIY Recycled Jean Bag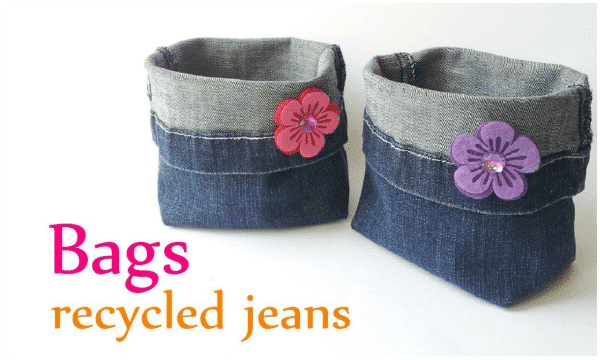 There are a lot of cool ways that you can repurpose old jeans as we have featured to refashion old jeans into new styles or to them into a cute apron for example.
The best part is, you'll still have some material left over to make an adorable little denim bag or purse for little girls as desk organizer, or decoration, or planter bag.
Check out the super simple way to make jean bags via tutorial by Innova Crafts. – A beginner's guide to sew as start.
Bags Recycled Jeans
All supplies you will need:
A Pair of jeans
Scissors
Sewing thread
Embellishments
Directions:
Snip off the bottom part of the leg – where you cut all depends on how deep you want your bag to be.
Then flip the piece of material inside-out and sew the cut part closed. Sew the two inside corners to make it stand upright on its own.
Then flip it the right way, super easy?!